If you own or manage a business in Oswego, Naperville, Aurora, Yorkville or Plainfield, you know that security for your building, employees and customers is an important part of operations. In addition to providing an excellent product or service, you want to ensure the property is secure.
Parking lot lighting is a key component of your overall safety plan. A well-lit parking lot has proper visibility for walking at night and for preventing accidents. It also helps to discourage crime that becomes easier when vision is limited.
On top of that, parking lot lighting can add to your property's professional image and appeal. The parking lot is usually your business's first and last point of engagement for employees and customers alike every day. A parking lot with good lighting can attract more people to your signage, building and walkways – as well as to a sense of safety.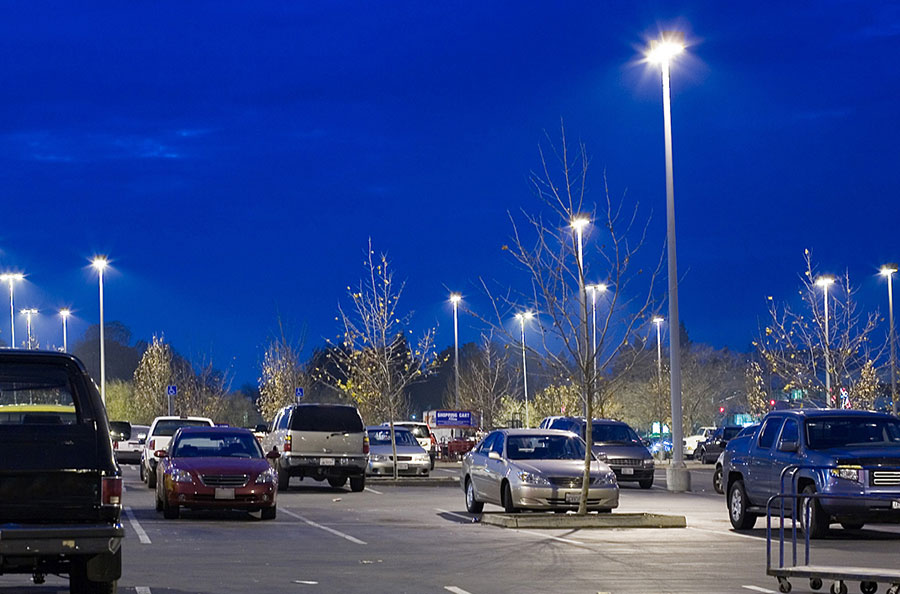 Parking Lot Lighting: What to Consider
Parking lot lighting for a facility more than 10 years old in Oswego, Naperville, Aurora, Yorkville or Plainfield will likely be outdated unless it has been changed during the last few years. If your lighting is older than 10 years, it's also probably producing higher energy bills than you have the option of paying today.
When you are evaluating your current parking lot lighting, some key factors you want to consider are:
Brightness. Is your lighting sufficient for both vision and safety?
Efficiency. How much illumination does your lighting produce per watt?
Consistency. Is the lighting uniform throughout all areas where it's required?
Expected lifespan. Do you know how long your parking lot lights were made to last? How much life is left in them now?
Expense. What is it costing your business to have the parking lot lights on?
If your evaluation indicates it may be a good time for an upgrade, new technology can provide you with even greater function and appeal while helping to save on utility costs.
In the event you would benefit from support for your evaluation, such as creating an accurate map for surveying the parking area and measuring light levels, your local parking lot lighting professional will have the knowledge and resources to assist you.
Parking Lot Lighting: Retrofitting and LED Lighting
Retrofit lighting is the upgrading of your current parking lot lighting to a more-efficient alternative of greater quality.
Traditional parking lot lighting can take different forms. Some of the most common are high-intensity discharge (HID) lamps such as low-pressure sodium lights, high-pressure sodium lights, mercury vapor lights and metal halide lights.
Compared with HID lamps, LED lighting is much more efficient. Beyond being bright, attractive and good for security, LED technology can:
lower energy consumption. LED lights use between 45 and 450 watts. By comparison, HID lamps can use between 250 and 1,000 watts. That makes a big impact on energy costs. Depending on the size of your lot, you might spend up to hundreds or even thousands of dollars more a month with traditional lighting.
reduce required maintenance. LED lights provide adequate lighting with less effort than traditional parking lot lighting requires. This means they can serve you better for longer. Some LED lighting can last for up to 100,000 hours and maintain much of its brightness the entire way. By comparison, HID lamps lose a bit of their output each year while still consuming the same amount of energy to operate.
need fewer fixtures. Many parking lot poles have one or two fixtures; busy areas might have as many as four. Because LED lighting is more efficient, you may use fewer total fixtures to produce the same lighting throughout the lot.
You can install LED lighting for your parking lot in a wide range of shapes, light colors and Lumens (brightness). LED lamps also typically do not need to be replaced.
Just a few ways you might retrofit your parking lot lighting might be to replace existing incandescent or fluorescent fixture bulbs, HID pole-mounted fixtures or parking-garage HID fixtures with LEDs.
With LED lighting, you might also qualify for ComEd rebates and tax credits.
Parking Lot Lighting Professionals Near You
Trinity Electrical Services serves Oswego, Naperville, Aurora, Yorkville and Plainfield businesses with licensed, bonded and insured installation of retrofitted and LED parking lot lighting. We are also properly trained in OSHA procedures and standards for safe installation, repair and maintenance of parking lot lighting.
If you have questions or would like to learn more about how you can potentially save money while upgrading your lighting, simply call us at (630) 499-1492. One of our skilled and knowledgeable electricians will be glad to hear from you and speak with you.
We also specialize in parking lot lighting for nearby communities such as North Aurora, Batavia, Sugar Grove, Montgomery and Plano.