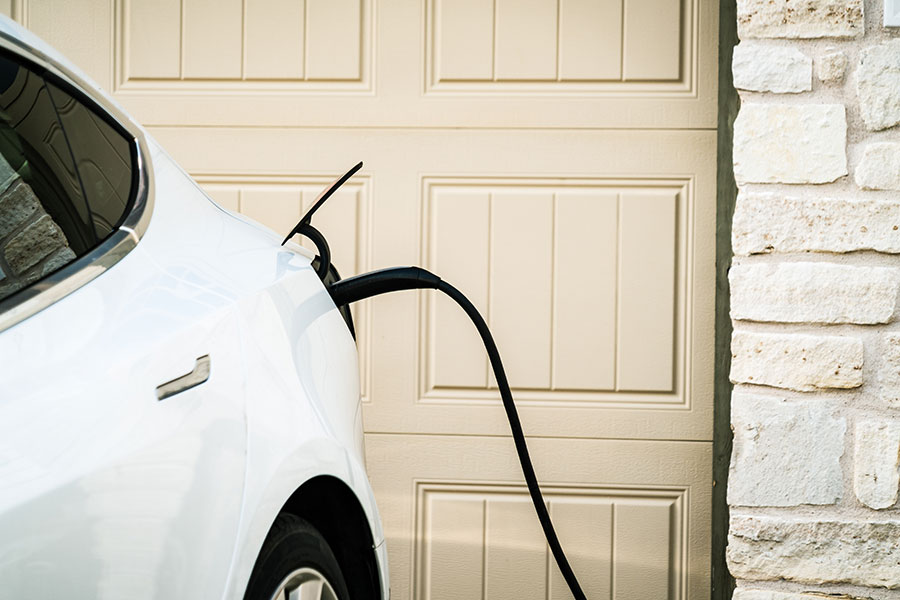 As we know here in Oswego, Naperville, Aurora, Yorkville and Plainfield (IL), the world continues to rapidly change. Things we once might have considered only in sci-fi books are now components of our daily lives. As professionals in electrical power supply, the technicians at Trinity Electrical often have an up-close view of technological progress.
With an estimated 2 million of them now on U.S. roads, EVs are steadily gaining more presence. While this represents only 1% of all U.S. automobiles, 20% of passenger cars purchased in 2021 were electric, and in the third quarter of 2022, fully electric vehicles held a 5.5% market share of U.S. new-car sales.
Owning and operating an electric car requires access to a charging supply. While vehicle owners need to consider where they can charge up when traveling farther distances, the majority of vehicle charging takes place at home.
At home, the EV can power up where it is parked for long periods, typically at a much lower cost than is paid at a public station.
The trained and certified professionals at Trinity Electrical support EV owners in Oswego, Naperville, Aurora, Yorkville and Plainfield with the installation, maintenance and information for getting the most from an EV charging system.
Quick EV Charging 101
Three main factors are considered for an at-home charging system:
the output of the household circuit being connected to

the output of the EV charging equipment

the rate of charging the vehicle can accommodate
EV charging capability is categorized into three tiers:
Level 1 – 120 volts

Level 2 – 240 volts

Level 3 – 208–440 volts (DC fast-charging at a station)
A typical house in Oswego, Naperville, Aurora, Yorkville and Plainfield will be wired for Levels 1 and 2.
Often provided with the EV at purchase, Level 1 chargers plug into a standard outlet. The supply is very slow, requiring up to multiple days for a full charge. This tier provides about four to five miles of range per hour of charging. In other words, charging the EV for 10 hours will allow for 40 to 50 miles of driving, which may be fine for vehicles used mainly for local driving. It is the cheapest and most basic option.
Level 2 charging systems can usually fully power the car overnight, making them standard for at-home use. Level 2 requires much less time than a Level 1 charge (e.g. an eight-hour overnight charge can equal about 180 miles of range). This level is especially favorable for drivers who have less available time and do more than local driving.
Used at public stations, Level 3 chargers are the fastest and most powerful systems, in some cases providing up to an 80% charge in just 30 minutes. Installing a Level 3 system can cost many thousands of dollars, making it nonstandard for home use.
Installing an EV Charging Station Properly
When you are adding an EV charger to your home in Oswego, Naperville, Aurora, Yorkville or Plainfield, the equipment can either connect through a plug or be hardwired into the home's electrical system. A dedicated electrical line needs to be run from the breaker box to the garage or exterior location where the equipment will be installed.
It's important that your charger be wired and installed correctly. A slew of YouTube videos on how to install a charging system can be found, but without proper electrical training, the do-it-yourselfer can still leave room for mistakes or oversights that result in poor system function or even damage.
Trinity Electrical specializes in wiring and installing Level 2 ChargePoint chargers for residential use and Level 3 systems for commercial and institutional use (e.g. park districts, parking lots, retail locations). We can wire and install a charger for any EV make and model as well as adapters for Tesla vehicles, which have their own charging system.
In addition to ensuring optimal set-up, having your system installed by a qualified electrician helps keep the warranty active. Improper installation by an untrained individual can void coverage.
The ChargePoint systems we install include WiFi connectivity as well. After you add your EV to the app, it will interpret the percentage of battery replenished as well as the number of EPA miles added to your particular vehicle. You also can see charge-rate graphs and the charge time and total energy output during each charge. Plus, you can set charging times to take advantage of any variable-cost electricity during off-peak hours.
If you have a system or plan to acquire one, you can look into any available rebates, incentives or tax credits. For example, the federal Inflation Reduction act passed in August 2022 provides a 30% tax credit up to $1,000 for home charger installation. You can search for EV-related state rebates here.
Professional Electrical Services for EV Charging in the Fox Valley
Family- and U.S. veteran–owned Trinity Electrical Services provides licensed, bonded and insured electrical work for EV charging systems. We are glad to support our community in this way, and we welcome your questions about installing a charger at your home in Oswego, Naperville, Aurora, Yorkville or Plainfield (IL). The sooner you plan for a charging station before purchasing your EV, the better – just give us a call at (630) 499-1492!
We also provide skilled electrical wiring and installation of EV charging systems for Montgomery, Sugar Grove, Geneva, Batavia, Sandwich, Plano and North Aurora (IL).