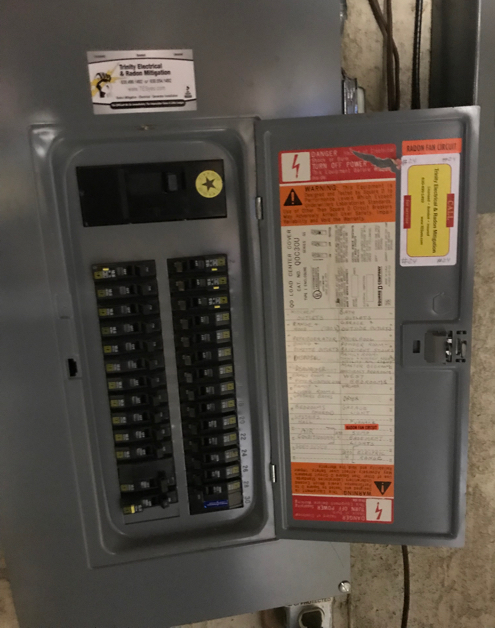 Owning a home in Oswego, Naperville, Aurora, Yorkville and Plainfield (IL) requires some maintenance throughout the year. For example, we should check the air filter for our HVAC on a schedule, and it's also wise to have the system inspected each year. Other basic tasks can include mowing the lawn and replacing the water-softener salt.
Something that can often be overlooked is the condition of the home's electrical system. Some homeowners might be surprised to find out that their system may not have been built to code or does not comply with current code and therefore could be unsafe.
Electrical problems might arise from old equipment, poor connections, improper wiring and incorrect wiring size, to name but a few factors. Unskilled electrical work can be another cause. Any one of these issues can create hazards such as shocks or a fire. Older homes in particular can be vulnerable to outdated or noncompliant systems.
The good news is that a full-home electrical safety inspection can identify any existing or developing risks. Should something be discovered, in many cases it can be resolved with an electrical code correction.
A few signs that a home needs an electrical code correction might include:
faulty electrical panels
incomplete electrical projects
subpar-performing electrical panels
burned-out appliances
insufficient grounding
exposed or damaged wires
malfunctioning outlets
overloaded circuits
damage from power surges
unshielded components
In addition to posing an immediate threat to safety, electrical problems can become a major hindrance in the purchase or sale of a house.
A licensed and certified professional electrician who knows and follows your local code in Oswego, Naperville, Aurora, Yorkville or Plainfield can ensure your home meets required standards for system safety and performance according to the National Electrical Code.
What Is the National Electrical Code® (NEC)?
Published by the National Fire Protection Association (NFPA), the National Electrical Code – also known as NFPA 70 – is the preeminent electrical safety code in the U.S. It provides established standards for the safe installation, repair and design of electrical systems for residential, commercial and industrial buildings.
The NFPA is not a governmental organization with enforceable legal authority. However, the NEC gains particular relevance when incorporated by states and local jurisdictions. Updated every three years, the code is written in legal language that can be easily implemented into state and local law.
When municipalities such as Oswego, Naperville, Aurora, Yorkville and Plainfield make NEC guidelines part of their safety statutes, they become enforceable according to the jurisdiction's regulations. Violations of the code can result in fines, but more important, they can notably endanger people and property.
Although the code is updated every three years, not all jurisdictions adopt each new version right away. Many states and local governments may implement the most recent edition (currently 2020) within a few years of its release. Some might also omit or modify sections or add their own requirements according to locally accepted practices.
Before obtaining a professional license, an electrician will have spent years of apprenticeship studying and practicing NEC safety standards. A licensed electrician serving Oswego, Naperville, Aurora, Yorkville and Plainfield will know both the most current NEC standards and the particular code requirements for each jurisdiction.
The National Electrical Code typically includes an introduction and nine chapters, in addition to annexes and an index. The chapters are as follows:
General: definitions and rules for electrical installations (markings, connections, voltages, etc.)

Wiring and Protection: ways to cover and protect wires, such as with industrial cable protectors and wire coverings that prevent damage from heat, moisture and dust

Wiring Methods and Materials: cables, conductors, wiring devices and others

Equipment for General Use: heaters, switches, receptacles and cords

Special Occupancies: unique environments with a high risk to multiple people (e.g. temporary installations, boat yards, marinas, mobile homes and agricultural buildings)

Special Equipment: signs, machinery, transformers, distribution boards, switchboards and circuit breakers

Special Conditions: the installation and use of alarms, emergency systems, security systems, card-access control systems and closed-circuit TV (CCTV)

Communications Systems: additional requirements for communication systems, including radio, TV and telephones/cell phones

Tables and Annexes: tables regarding conduits, conductors and cable properties, among other things; annexes relating to referenced standards, examples and calculations, as well as the correct implementation of certain code articles (e.g. how many wires fit in a conduit)
Code-Compliant Service for the Fox Valley
Trinity Electrical Services supports Oswego, Naperville, Aurora, Yorkville and Plainfield (IL) with thorough knowledge of current safety standards defined by the NEC and your jurisdiction. If you would like to learn more about our qualifications or schedule an electrical safety inspection to ensure compliance with electrical code corrections, contact us today at (630) 499-1492.
Trinity Electrical Services is Master Electrician certified. We also provide licensed, bonded and insured electrical service according to local safety codes for communities such as Montgomery, Sugar Grove, Geneva, Batavia, Sandwich, Plano and North Aurora.