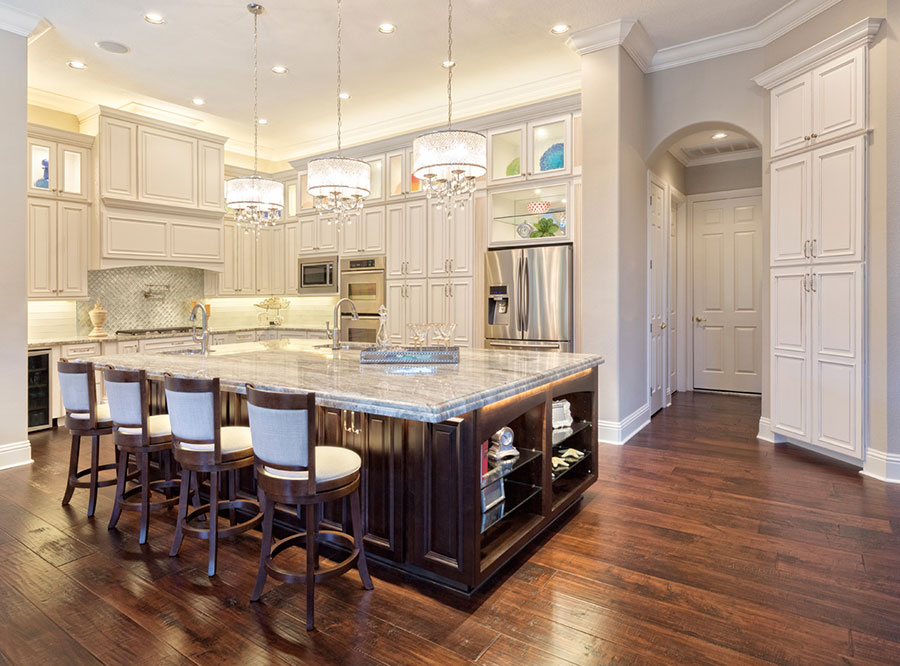 Light fixtures are permanent parts of our daily lives. Whether we're switching on a lamp or raising the dimmer on overhead lighting, we depend on the glow that's given.
If you plan to add lighting other than lamps at your home or office, it's usually best to consult a professional. A trained and licensed electrician will ensure the installation is safe, correct and building-code compliant, as well as attractive for your space.
If you're considering adding new lighting, you might want to know how much it costs to install a fixture in areas such as Oswego, Yorkville, Naperville, Aurora and Plainfield.
On the average, a light installation might range anywhere from $65 to $400. Much of the cost will be determined by your preferred type of fixture, any accessories and the extent of the work to install it (e.g. is the wiring existing or will it be new).
The following are just a few of the light fixtures you might be thinking about (and that we often install).
Pendant Lighting
Attached from the ceiling, pendant lighting can add instant style to a space. You may see it installed over a kitchen island, a dining-room table or a pool table, as well as in halls or corridors.
Offering both function and decoration, it can range from ornate to whimsical to classic and conservative. Your pendant lighting might also be a single pendant or multi-light pendants, depending on your preference.
Accent Lighting
Unlike a pendant light such as a chandelier, which can draw more attention, accent lighting brightens a space while keeping the focus on other aspects of the room or area.
Some popular placements of accent lighting include under cabinets, behind furniture, in hutches or room corners, and above paintings or framed pictures. It's also used to enhance outdoor landscaping.
Recessed Lighting
Also referred to as pot lights, recessed lighting resides in the ceiling and creates spheres of light for illuminating a room. Many people like its look, style and mood. Plus, because it doesn't require cords, lamp shades and floor space, it doesn't interfere with décor.
You can include recessed lighting in different ways, such as in a lobby or a living room, above a desk or a counter, or in a kitchen or dining room. You might also use it to accentuate statues, paintings or other displays.
Exterior Lighting
Exterior lighting can add to both the visual appeal and your enjoyment of outdoor areas. Post lights for patios, decks and walkways; driveway lighting; sconce lighting around doorways; and flood lighting for yards and landscapes are but a few examples of exterior light fixtures.
Outdoor lighting (including security lighting) contributes to safety as well. Beyond providing greater visibility for you, it can help deter crime or trespassing after dark.
Light Fixtures: Find Out More Today
Trinity Electrical Services specializes in light fixture installation for the West Suburbs, including Oswego, Yorkville, Naperville, Aurora and Plainfield. We're here to answer your questions and support you with the skill you need. If you would like to discuss installing a light fixture, including the costs, contact us at (630) 499-1492 to speak with a professional.