Running a business in Oswego, Naperville, Aurora, Yorkville or Plainfield involves a lot of moving parts – products, services, phone calls, purchases, sales, computer systems.
Right beneath that vital business activity is the essence that keeps the lights on and the machines running: your electricity. It is such an integral factor of what you do that it can be easy to overlook it.
Then perhaps one day you run into trouble with your commercial lighting – it's flickering or it simply goes out. This can quickly become disruptive, and you'll need a swift, proficient solution.
Ideally you'll have a go-to commercial electrician near you that can support you right away. If you need to locate one, chances are you'll go online and type something such as commercial electrician near me.
Should you find yourself searching for an electrician near you in Oswego, Naperville, Aurora, Yorkville or Plainfield, you can often save money, time and frustration by looking for certain qualities in a service provider. We'll do a quick review of those factors here.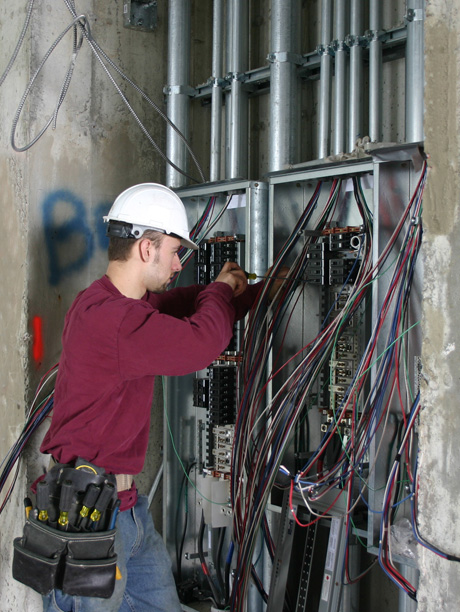 Commercial Electrician Near Me: License, Insurance, Bonding & Background
Commercial electrical work is complex, and it requires a particular level of knowledge and skill. A commercial electrician licensed by Illinois will have satisfied the state-mandated requirements for working on your system safely and correctly. By law, a licensed electrician also will be insured in the event of any damage, accidents or injuries at the site.
Besides the company being state-licensed, individual electricians can be licensed as either Master or Journeyman electrician by their county. The company's electricians should be certified, meaning they have completed a four-year apprenticeship as well as the coursework for Level 3 qualification. They will also be pursuing continuing education and keeping current with the National Electrical Code, which is updated every three years.
A low fee for commercial work might appear attractive, but it could also signal a lack of elements such as training or insurance. You are well within reason to request the electrician's current license number and copies of their insurance certificates.
If the electrician's credentials also include being bonded, that tells you that you will be covered if the electrician does not complete the work. This provides additional security and peace of mind.
You can also verify that a commercial electrician conducts background checks and drug testing for its employees. When you hire an electrician, you allow certain access to your business, and you are justified in ensuring the integrity of the people you work with.
Commercial Electrician Near Me: Experience & Reputation
For something as intricate as commercial power, proper experience and confirmed competency are essential. The company you contract should have an established record of working on commercial buildings. Inquire about how long the electrician has been serving commercial customers.
The provider's staff should also include a master electrician, which is the profession's highest distinction of knowledge and skill. A master electrician has completed at least three years of hands-on field work and been vetted for quality of workmanship and knowledge of electrical safety.
Other customers' feedback and reviews can offer you valuable insight as well. With the internet, you can usually find out fast if people are satisfied or dissatisfied with how an electrician performs. Websites such as Angie's List and Google Reviews are common resources for community reviews.
Other good resources for information about an electrician are the Better Business Bureau and your local building department.
Commercial Electrician Near Me: Service Range & Warranty
Not all electricians are proficient in all aspects of commercial service. For example, some might be adept with machinery control wiring but not with underground wiring. Other electricians might be superb with smaller jobs but have less specialization in big projects.
Whether you need a switchboard upgrade or wiring for commercial lighting or an alarm system, the electrician should be a good fit for your project type and size.
Reputable electricians will reinforce the quality of their work as well. Inquire about the business's parts and labor warranty.
The Commercial Electrician Near You
Trinity Electrical Services serves Oswego, Naperville, Aurora, Yorkville and Plainfield with licensed, bonded and insured commercial electrical work. If you find yourself needing a commercial electrician near me, feel free to call us at (630) 499-1492. We will be glad to answer your questions about having the right provider, including for commercial lighting.
We are also commercial electricians for nearby communities such as Montgomery, Sugar Grove, Batavia, Plano and North Aurora.