Many of us know that ceiling fans help keep air moving, especially on warm and stuffy days. We've also seen how good some ceiling fans can look in a room. There's actually much more to these versatile mechanisms. Let's begin with some brief history.
The first ceiling fan powered by electrified parts was invented in 1882 by Philip Diehl, a contemporary of Thomas Edison. He made it by mounting a fan blade to an electric motor from a sewing machine and attaching it to a ceiling.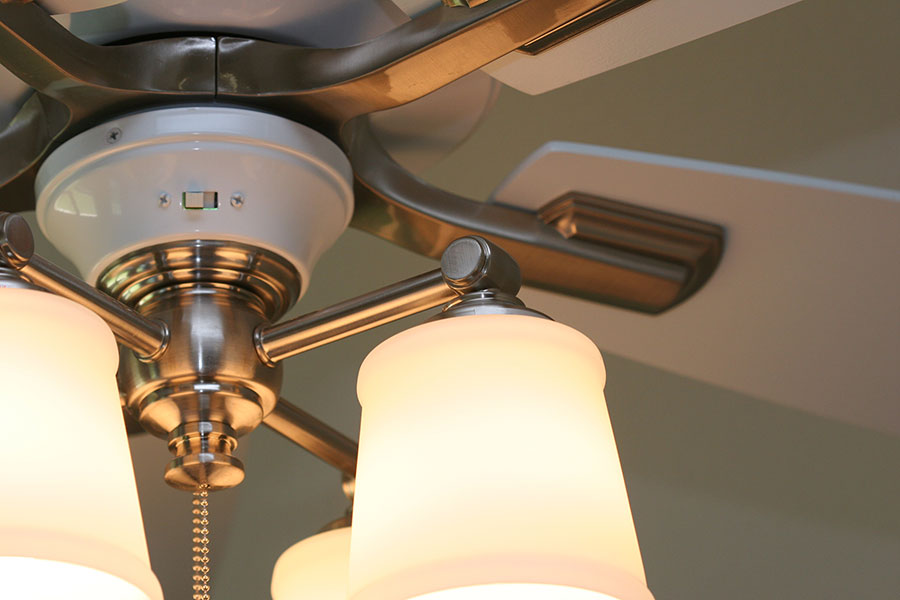 The design and construction of ceiling fans continued evolving after that. By the 1920s, they were common in the U.S., but their use started declining with advances in air conditioning during the 1940s and 50s.
Their presence wouldn't subside for too long, however. Ceiling fans have resurged in function, style and utility during the last few decades. For our current discussion, we'll explore leading benefits of having proper installation of ceiling fans at your home or office in Oswego, Naperville, Aurora, Yorkville or Plainfield (IL).
Ceiling Fan Installation Benefit: Yearlong Energy Savings
Ceiling fans contribute to lower energy consumption and costs by making the room seem cooler to you. They do this by creating air that moves over your skin, which quickens the evaporation of perspiration.
This helps you feel comfortable even if you raise the thermostat by two or three degrees. On top of that, a ceiling fan requires much less electricity to run than an air conditioner does. Because you can achieve similar results with less demand on your system, you can potentially lower your utility bill by a double-digit percentage.
A ceiling fan's design can also serve you when it's cold outside. Most models let you reverse the fan blades' direction from counterclockwise (for cooling) to clockwise (for warming).
As we know, warm air rises and cool air sinks. When you set the blades clockwise in winter, the fan will draw warm air away from the ceiling and down to where you need it, without creating a draft. This can reduce your heating use in winter by making you still feel warm when the thermostat is lower by a couple degrees.
Ceiling Fan Installation Benefit: Aesthetic Choices
Ceiling fans come in an array of sizes, styles and finishes that can complement your interior design and personal style. In some cases, a ceiling fan can even be a centerpiece.
Plus, if you decide to repaint or redesign a space, you won't necessarily need to find a matching ceiling fan. You can often acquire a new blade set to complement your changes.
Ceiling Fan Installation Benefit: Convenience and Flexibility
You can have a ceiling fan installed anywhere from a living room to a balcony to a covered patio. The more ceiling fans you include, the more energy-efficient you make your home or office in Oswego, Naperville, Aurora, Yorkville or Plainfield.
Many ceiling fans also have lights built into them. You can use them as main lamps or as ambient illumination. Certain models include accessories such as remote control and WiFi access as well. 
Ceiling Fan Installation Benefit: Easy Maintenance
Once your ceiling fan is installed, you really only need to clean the blades and change the light bulbs periodically. It's also a good idea to check for loose screws around once a year.
The extra airflow a ceiling fan provides further helps prevent dust and other dirt particles from gathering on your surfaces. This can contribute to less cleaning and dusting for you.
Your Local Resource for Ceiling Fan Installation and Wiring
Trinity Electrical Services specializes in electrical work for ceiling fans and other remodeling and interior design projects in Oswego, Yorkville, Naperville, Aurora and Plainfield (IL). We ensure the proper installation of your ceiling fan so you can fully enjoy all that it offers. To further discuss ceiling fans, simply give us a call at (630) 499-1492.