Radon Mitigation
Trinity Radon Mitigation
What is Radon?
Simply, Radon is a Radioactive Gas that can cause lung cancer. It is a "type A" carcinogen. Scientifically, Radon is a radioactive element that is part of the radioactive decay chain of naturally occurring uranium in soil. You can't see radon. You can't smell radon & you can't taste radon. Unlike carbon monoxide and many other home pollutants, radon's adverse health effect – lung cancer – is usually not produced immediately. It is possible to be exposed for many years without knowing it.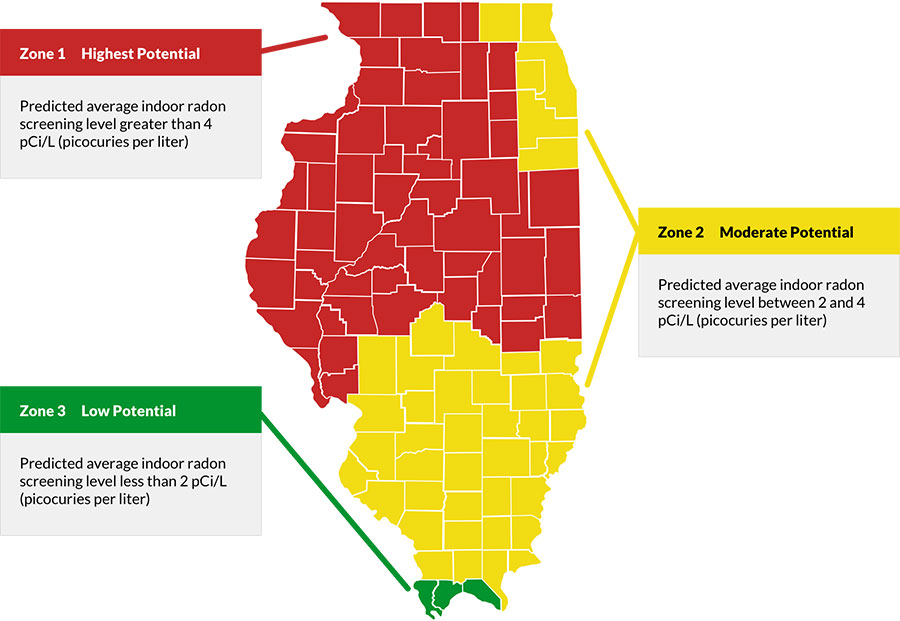 Living in a home with radon concentrations at the state action level of 4.0pCi/L is the equivalent of smoking 8 cigarettes a day and is the equivalent of getting 200 chest X-rays a year. (Oswego Illinois for example has an average reading of 5.5pCi/L)
Radon induced lung cancer kills more people than drunk driving in the US annually.
Radon is an invisible, odorless, tasteless radioactive gas.
According to the US EPA, radon is the second leading cause of lung cancer in the United States, and the leading cause among non-smokers.
Radon comes from the natural breakdown of uranium and enters homes, schools and other buildings from the soil.
Elevated indoor levels are found in every state in the US, and in every county in Illinois.
Radon is by far the greatest single source of radiation exposure to the general public.
Radon was discovered in 1900 by Frederich Dorn, who called it radium emanation. Radon gas has been known by its current name since 1923.
Stanley Watras brought the radon issue to public attention in 1984. Mr. Watras, a construction worker, entered Limmerick Nuclear Power Plant in Pottstown, Pennsylvania. There were no radioactive materials yet at the plant, but he set off the radiation monitors because of radon and radon progeny clinging to his clothing and skin. With Watras's urging, they decided to test his home for radiation contamination and found high levels of radon.
The Watras case prompted a regional testing program and this information led the US EPA to launch advertising campaigns and, in 1986, pass the Indoor Air Quality Research Act. This Act prompted states to create their own radon programs.
IEMA Division of Nuclear Safety provides information about radon to citizens of Illinois. IEMA DNS also requires those professionals who test and mitigate for radon be licensed. For more information about radon from IEMA DNS, check out its

 

website

 

or call its toll-free voice recording at 1-800-325-1245.
How do you remove radon?
Radon mitigation and reduction techniques are used to stop radon entry and reduce indoor radon concentrations. IEMA recommends hiring a licensed Mitigation Professional to reduce your indoor radon concentrations, as you would hire a licensed plumber, HVAC, Electrician or other specialist. Radon mitigation should be handled by the experts at Trinity Electrical Services, where we've been serving the Fox Valley for over 18 years.
Trained radon mitigation experts using specialized equipment can discover where radon is entering and advise homeowners on the best way to reduce radon concentrations. The most common technique used by radon mitigation and reduction firms is called "subslab depressurization" (SSD) and does not require major renovations. Post-mitigation testing must be performed to determine the effectiveness of the radon mitigation system. All of Trinity's Radon Mitigation systems are guaranteed to reduce your home's average Radon Concentration level below the Illinois action level of 4.0PCI/L.
The cost to activate a Passive Radon Mitigation System can start as low as $500 and the cost to install a Full Radon Mitigation System can start as low as $1,100. The typical energy cost for running a Radon Mitigation System will average about $30-45 per year.
*Special thanks to U of I & the IEMA for these facts on Radon.
Some of the Communities we service for Radon Mitigation include: Aurora, Batavia, Bolingbrook, Geneva, Montgomery, Naperville, Oak Brook, Oswego, Plainfield, Plano, Sandwich, Sugar Grove, Wheaton, Woodridge and Yorkville.
View Our Brochure
"Thank you Phil. Your crew did a great job and we appreciate the service that was provided to us. Very efficent and professional. If we should have any electrical repairs/issues needed in the future, we will contact Trinity Electric again!"
Donnielle S. - Batavia, IL
Read more Testimonials